News
S1 R3 IAME class – Larkhall Scotland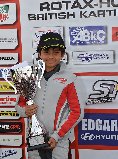 Sean has qualified third overall out of 34 drivers.The heats were hard going for Sean. Heat one he finished fifth. Heat two eighth.
His pace still looking good.
Starting nine for final 1. Good start put him into fifth on lap 1, he drove a clever race and finished second.
Final 2 – he dropped back to tenth on lap one, then he started his come back to the front.
After leading for some number of laps he got pushed back to fourth, then on the last lap managed to get on the podium, finished 3rd.
His first major podium. He moves up to 7th in the championship.
S1 R5 ROTAX MAX LARKHALL SCOTLAND
Tom Gamble put a good lap to go quickest in time qualifier in mini max out of 34 drivers.
His new team mate, Tushar, 10th in his qualifying group but dropped down to 24 overhall.
Tom won his two heats, Tushar having two good finishes, starting 21st for final one. Gamble lead most of the way but got pipped with 5 laps left. Tushar having good battle throughout the race but got left with 21 position.
Final two saw Tom come back to second after starting on the outside.
Tushar had a mixed race, pace was good but couple of offs put him back to 25. Tom up to 3rd in championship.
COMER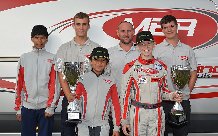 Sean went to Scotland with lots of confidence. Qualifiying was very close but he got 5 position.
Having good heat finishes and fastest lap in one heat , put Butcher second row for final 1.
With the rain, Sean changed his lines and drove past all his competitors and took victory.
Final 2 track drying, sticky condition but still managed to finish 2 pushing the leader round.
Moved up to 5th in championship.
KARTMASTER PFI 2013
Sean started the weekend in front by setting the fastest lap in first qualifying session. Had one good heat and finished 10 in heat two on Saturday race. Qualifying went well again 3rd overall, two 5th places in heats, places him 3rd in final one. He was looking good for top three finish but on the last lap with 3 corners to go the leading pack of karts starting fighting, Sean ended up 6th.
Final 2, started 6th, outside row but pushed out wide first corner and got span out. Got back on, put his head down and clawed his way back through to 13th from 31st. Shame all weekend he was top 5.
So it was up to MBR minimax drivers to go for the GP plate.
Gamble poled his group but only was good enough for 6th overall. A win in his first heat , the start of heat 2 Tom got smashed off to the back and had to come through from last to 10 which was good going.
Tushar's day had its ups and downs but with a solid 11th finishing in his last heat.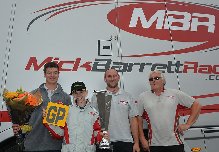 The next day, qualifying did not go to plan for Tom, back in 11 but a good showing of pace for Tushar in 15 place. Tom winning first heat showed he had good pace. Tushar having a good day with two top 10 finishes.
Final 1 Tushar had a mixed race, a good start but a difficult ending with an 18th place finish.
Tom had a strong race but a clever 2 laps from the end got himself up to 3rd. Tushar had a strong race moving up from 18 to 13 by the end of the race.Tom was in the thick of it one minute he was leading the race, the next he was back to 8th, by the last lap he got himself into 2nd and with two corners left he made his move and took the lead. He punched the air with two hands over the finishing line with all the MBR staff cheering the new 2013 GP winner on.

Shenington club meeting
First time here with Tushar. Heats went really well with some clever driving and very close to a heat win in the last heat.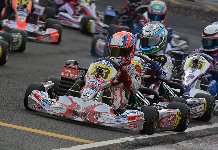 Tom had mixed heats with a win , a 5th and 12th. It puts Tom 2nd for the final, his team mate right behind him in 3rd. tushar having a great start staying with the leading pack in 3rd, but dropped back to 5th half way through but he kept on pushing because the group behind were working together to catch him. Crossed the line in 6th but got 4th. A good hard drive showing his pace.
It was Sean, round 7 of the LGM series with the heats underway. A couple of hard battles for Sean but a good 2nd finish in one heat and a 8th and 14th puts Sean 14th on the grid for the final. A good hard race saw Sean caught the second group of karts and finished in the top 10. Sean moves up to 8th in this championship.
Clay pigeon round 4 iame
MBR only drivers for this round. Sean Butcher qualifiying did not go well, puts him 30th. But a change of fuel and redoing the carburettor, saw Sean having a good start in heat one but a kart facing the wrong way, Sean's kart had too much damage to finish.
Heat 2 was good, starting 20th and finished 10th. Final 1, starting 27th and carved his way through to
12th, round such a short track was a good effort.
Final 2 Sean started on the outside and got crashed into and spun out, bot back going but was last and battled his way back to 9th over taking 21 karts. A good recovery drive but he dropped down to 10th in championship but still two more rounds left.
PFI – round 5 IAME
Going to MBR local track. Sean pace looks good. Qualification – going P5 in group but overall was 11th. Heat 1 good solid race to 5th. Heat 2 was the same finishing 5th. Final 1, having a hard first lap. The front group of karts got away, Sean raced well in the second group, finishing 10th in the end. Final 2 – having a better first lap. Racing in 7th for most of the race until another driver went for an overtake on a tricky corner and touch wheels with Sean. He dropped back to 11th which was ashame.
.Shenington Round 6 IAME
The last round of the british championship. Qualification was hard because Sean was in group 1 with a drying track. Sean went P5 in his group but 14th overall. Heat 1 did not go to plan, finishing 10th but heat 2 was more like it, finishing a good 3rd. Sunday was wet, final 1, found it hard to see, dropped back to 16th but did good to come back to 9th. Final 2 with the track drying out, set up was difficult. Sean having a strong race, finishing 8th, and 8th in the british championship. A good strong year for Sean.
Shenington Round 6 Rotax
The flast round of the championship. Tushar qualification went well with him posting fastest lap in group 1.
Tom qualification went to plan by going 3rd overall. Tom was fighting for 2nd place in this championship, had a lot of pressure on him. Tom first heat was hard with another driver blocking for the whole race, left Tom finishing 5th. The next heat was better with a second finish.
Tushar heats went well with a clever race to 2nd in heat 1 and a 4th in heat 2.
Final 1 Tom leading most of the race but with 2 flaps left , got pushed back to 7th and then got back to 5th on the last lap.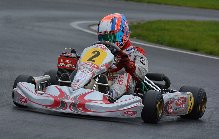 Tushar final went well, having a good start, staying in top 5 for first half of the race and then dropping off to 9th at the end. Final 2 Tushar got knocked back at the styart and lacking pace from the first final meant he finished 15th.
Tom had a hard race. To start saw him moved up to 2nd but halfway through the race got overtaken and pushed back to 7th. He fought his way back to 5th, same thing happened with 2 laps left so Tom finished 9th. It should have been a podium finish, but he still managed to clinch 2nd in the championship at the young age of 11. 
PFI – Round 1 winterseries
Tom Gamble in minimax with Tom Bayley and Junior max driver Brad Pennell.
With over half of track dry, qualification was very hard, lap times just got faster and faster each lap. Tom Bayley, second ever minimax race, nervous first few laps but got in the swing of things, posting 5th fastest lap in group 1.
Tom Gamble was top 3 all through qualifying apart from a little mistake on the last lap, put him 10th in his group. In the final, Gamble started 20th got a very good start, getting up to 10th after lap 1. Bayley started 10th, came out 12th.
Halfway through the race Tom was on the move, put fastet laps than the leader. Caught the leading pack and finished a good 3rd. Bayley was up to 7th having a really good race showing he had the pace but got a tap off another kart and going wide onto the wet patch, dropped down to 19th.
Brad qualification was going well top 6th until he got stuck behind a slower kart on the last lap which put him 11th. Start of the final, was in 16th then moved up toi 13th look okay for a top 10 finish but then the chain snapped halfway through the race. This put him out of the race, what ashame.